Coconut Angel Food Cupcakes
Light and airy coconut angel food cupcakes are topped with a coconut whipped cream frosting to make these delightful cupcakes!!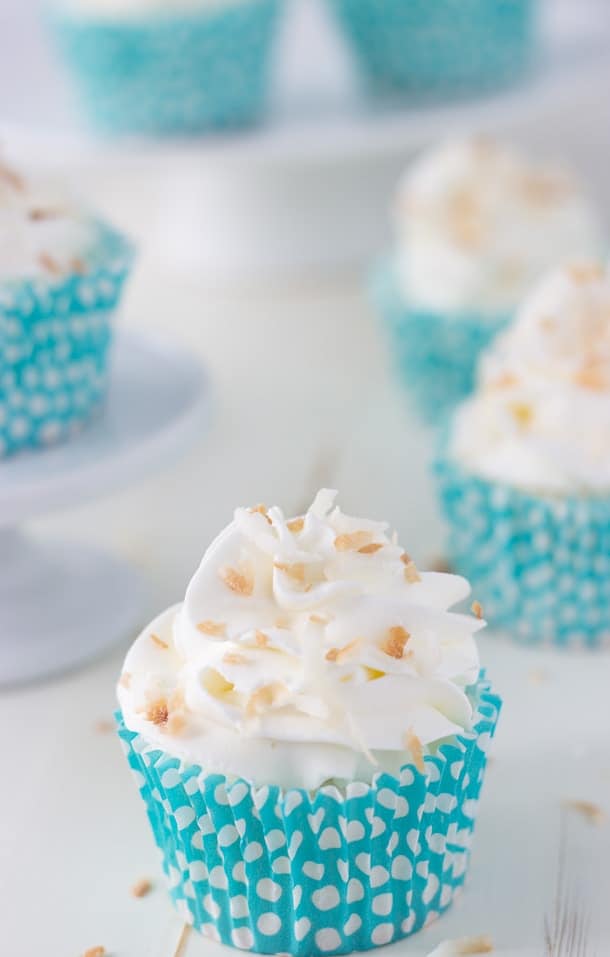 The summer is flying by way too fast and I can barely keep up with all the activities, family gatherings and baby preparation. I realized the other day that it's been a while since I shared some cupcakes with you guys. Sometimes things like Mango Margaritas and birthday cake martini take over and we just go with the flow 🙂
I actually made these cupcakes for a July 4th party a few weeks ago. I wanted something light and easy to bring to the outdoor picnic and cupcakes sounded perfect. After the coconut extravaganza of a virtual baby shower, I was inspired by both Marcie and Amanda who made coconut angel food cake recipes so I decided to make create angel food cupcakes with coconut, of course!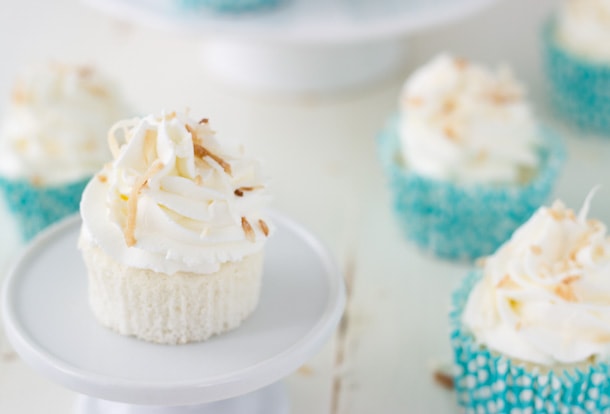 To make it easier for the non-coconut addicts out there, I didn't tinker much with my classic angel food cake recipe. I used coconut extract to infuse the flavor which you can obviously leave out and replace with vanilla extract. However, I topped the cupcakes with a coconut whipped cream frosting. Again, I made this with heavy whipping cream instead of coconut cream as I usually do to make sure the coconut flavor isn't overpowering.
In the end, these coconut angel food cupcakes have a hint of coconut in the cake and frosting and are extremely light, airy and perfect for the summer!! They were a hit at our party and I am sure will be for any gatherings you are having too.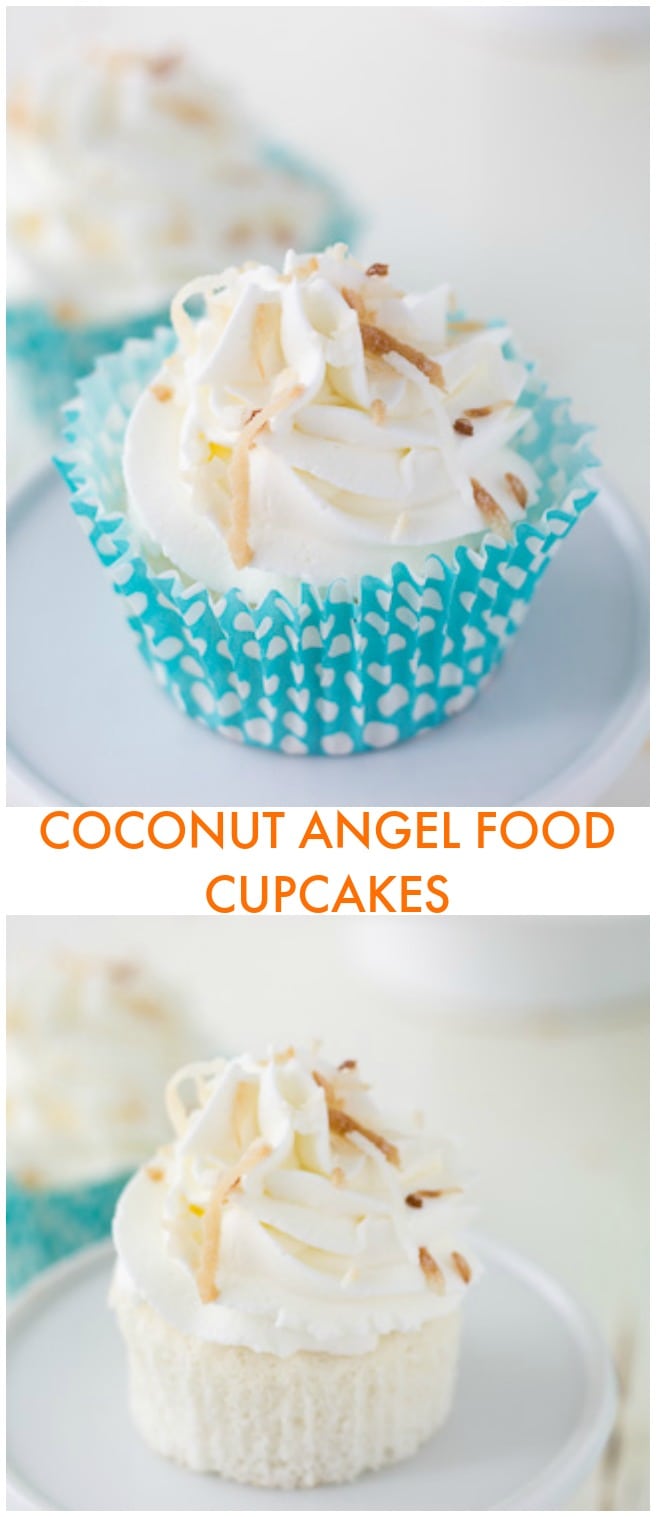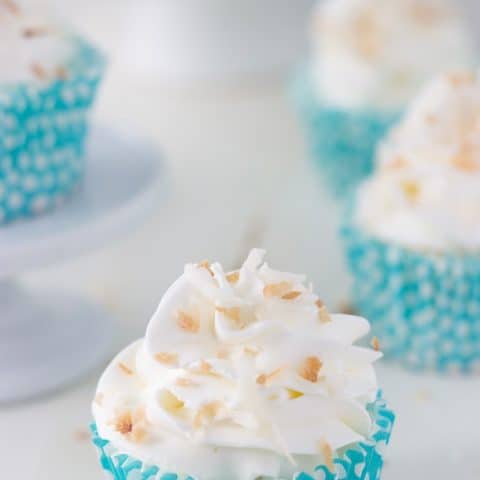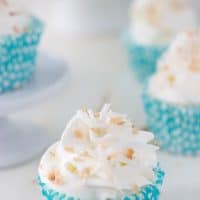 Yield: ~48 cupcakes
Coconut Angel Food Cake Cupcakes
Ingredients
For cupcakes
1½ cups sifted powdered sugar
1 cup sifted cake flour or sifted all-purpose flour
1½ cups egg whites (10 to 12 large), at room temperature
1½ teaspoons cream of tartar
1 teaspoon vanilla extract
1 teaspoon coconut extract
1 cup granulated sugar
For coconut whipped cream frosting
1 ½ cups heavy whipping cream, chilled
¼ cup powdered sugar
1 teaspoon vanilla extract
1 teaspoon coconut extract
Topping: toasted shredded coconut
Instructions
Adjust the oven rack to the lowest position in the oven. Preheat oven to 350 degrees F. Line regular muffin tins with cupcake liners.
In a large bowl, sift together the powdered sugar and cake flour three times. This aerates the flour and allows the cake to be light and airy. Do not skip this step.
In the bowl of the stand mixer, combine the egg whites, cream of tartar and extracts. Whip the egg whites on medium speed until soft peaks form. With the mixer on, gradually add the granulated sugar about 2 tablespoons at a time, beating until stiff peaks form.
Sift about a fourth of the flour mixture over the beaten egg whites. Fold flour into the egg whites using a rubber spatula. Repeat sifting of flour mixture and folding gently until all the flour is incorporated into the egg whites.
Fill each cupcake liner with batter, about ¾ full. Bake cupcakes fro 10-12 minutes or until lightly brown and cupcake top springs back when lightly touched. Remove immediately from muffin tins and let cupcakes cool completely on a wire rack.
For Whipped Cream Frosting
Chill a large bowl or the bowl of your stand mixer in the freezer for at least 10 minutes.
Combine all the ingredients in the bowl. Using the whisk attachment, whip the cream until soft peaks form. Continue whipping for additional minute until peaks are stiff and cream looks firm
Using a pastry bag and your favorite tip, frost the cupcakes using the whipped cream. Top with toasted coconut flakes.