Grilled Pineapple with Coconut Ice Cream and Caramel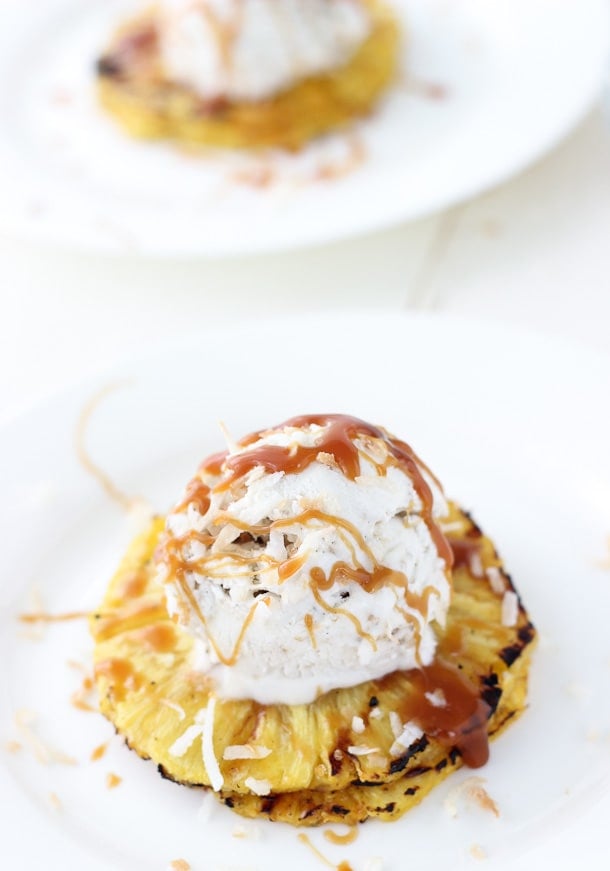 Hello you guys!! I'm BACK (sort of) and you know I had to bring the coconut 🙂
It's still crazy busy with a newborn but I'll be stopping in once a week to say hello and share a recipe with you. I hope you've enjoyed all the amazing guest recipes from my blogger friends. We have more coming as they want me to rest as much as possible.
These first three weeks with Elliott have been the most challenging yet the most fulfilling. Now I know what people mean when they say being a mom is the best job ever yet the most challenging. I am so thrilled to be his mom and just love getting to know him and take care of him.
I am slowly getting back into the kitchen and I have been itching to bake something since we got home but there has been zero time for anything. I don't know how someone who sleeps 18-20 hours a day can keep you so busy.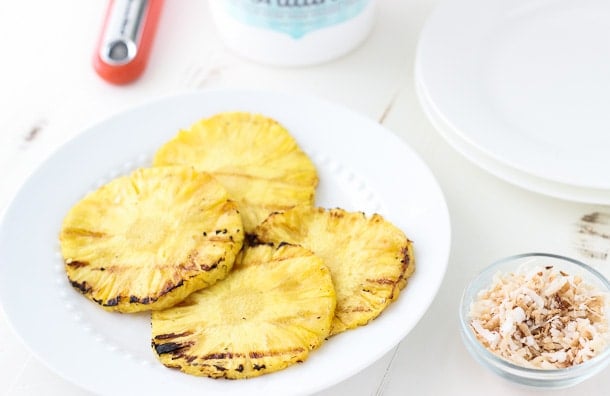 But remember how I told you I've been obsessed with our new KitchenAid grill this summer? It's been fun forcing the hubs to take a back seat as I man the grill a few nights a week. Plus it makes for a quick dinner when you have a newborn on hand. Of course at first I was doing savory things like these crazy good hot dogs with grilled corn relish and this grilled heirloom tomato pizzas. But eventually, I came to my senses and started making desserts. I started with grilled fruits and eventually graduated to grilled pies (this I am Baker recipe is amazing) but we will focus on the goodness of what this grilled pineapple with coconut ice cream is.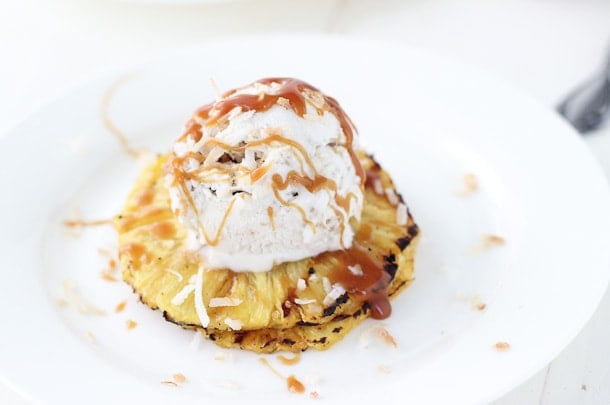 Grilling fruits is one of the best ways to get their juices and flavors enhanced. You can grill anything from pineapples and watermelons to peaches. For this grilled pineapple dessert, I grilled some fresh ripe pineapple slices, brushed them with some rum (yup!! we went there) and topped them with coconut ice cream (pina colada anyone??). I used this coconut marshmallow fluff ice cream I had in my freezer but you can use any ice cream you want if you don't care about the flavor. I finished them off with caramel sauce and some toasted coconut flakes. Simple, easy and packed with tropical flavors. It's just amazing how the flavors blend in this simple summer night dessert.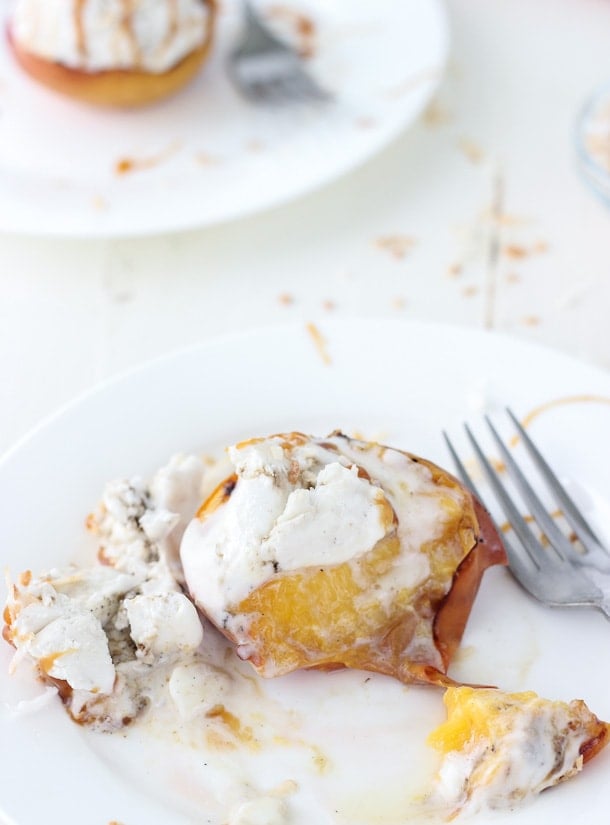 But hold on, not into pineapples? You can grill peaches too and enjoy with your ice cream and caramel sauce. The hubs is picky so I always have a variety when it comes to dessert and I am sure if you are making this at home for some guests, the variety will be great too. People can even assemble their own plates if you offer up different grilled fruits and toppings.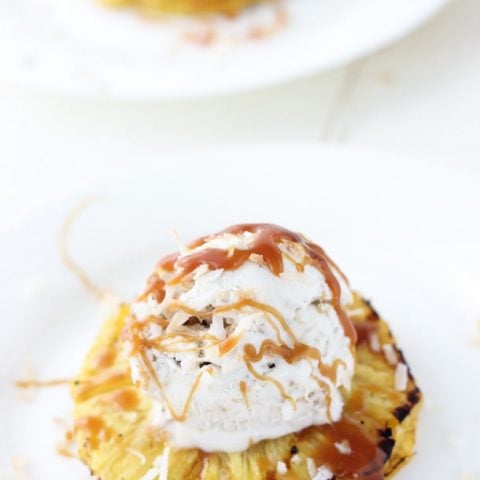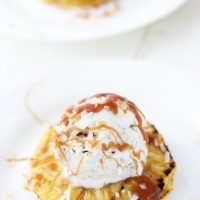 Yield: 4 servings
Grilled Pineapple with Coconut Ice Cream and Caramel
Ingredients
6-8 fresh Pineapple Slices
3-4 fresh peaches, cut in half
1-2 tablespoons rum (coconut rum if you have it; optional)
1/2 pint coconut ice cream
1/4 cup caramel sauce
toasted coconut flakes, for topping
Instructions
Heat up your grill for 10-15 minutes.
Place your pineapple slices and peaches on the grill. Grill on each side for 2-3 minutes until your desired consistency.
Brush the warm grilled fruits with rum (optional).
Plate the grilled fruits and top with a scoop of ice cream, caramel sauce and toasted coconut flakes.
Make sure you try these before grilling season is over folks!! You will not regret it at all.