Classic Pumpkin Bread Recipe
This classic pumpkin bread recipe will become a go-to fall favorite! With its warm fall spices and moist and crumbly center, it is perfect with a cup of coffee.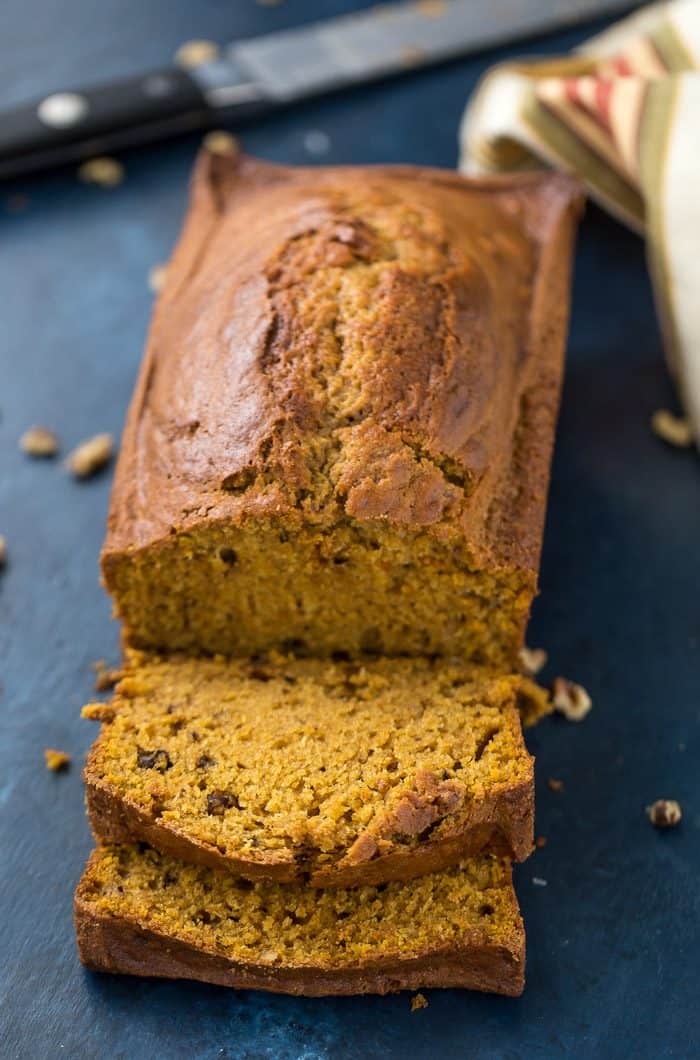 Hi guys! How are you doing? How's your October and fall going? Can you believe November is almost here? It's been a rather warm and lovely fall for us and we have been enjoying every part of it. Our trees have all changed colors and for the next two weeks, we will be in peak fall foliage season. It's seriously the most beautiful time of the year. With November and Thanksgiving coming our way, I am getting into the pumpkin mood. This classic pumpkin bread recipe is one of my all-time fall favorites and I find myself baking a loaf every other week.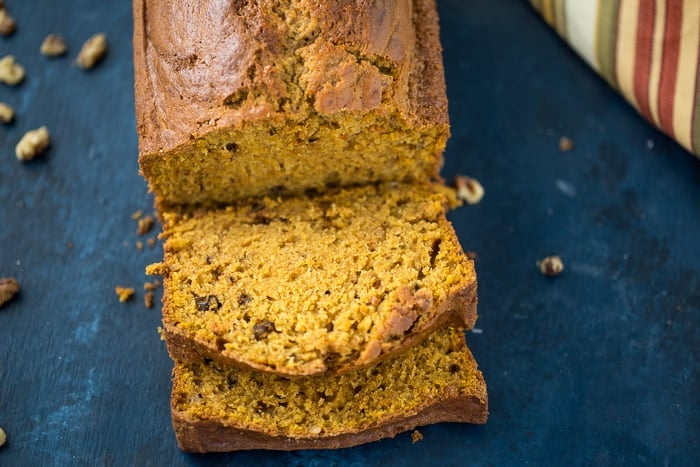 Recently, I baked a double batch of it for my in-laws who just moved into a new house. The stress of house buying and moving one's life is a lot and nothing says "I am home" like a warm slice of pumpkin bread with a cup of coffee. It's cozy, comfortable and just what is needed on a cold fall night. My mother-in-law definitely enjoyed it.
This classic pumpkin bread recipe is a go-to that you would want to keep in your repertoire. The batter can easily be modified to your liking and is versatile for add-ins. I've added in chocolate chips, walnuts (as pictured here today) and even coconut flakes. It's always so moist and delicious. You can also add an icing as well if you'd like an extra layer of sweetness.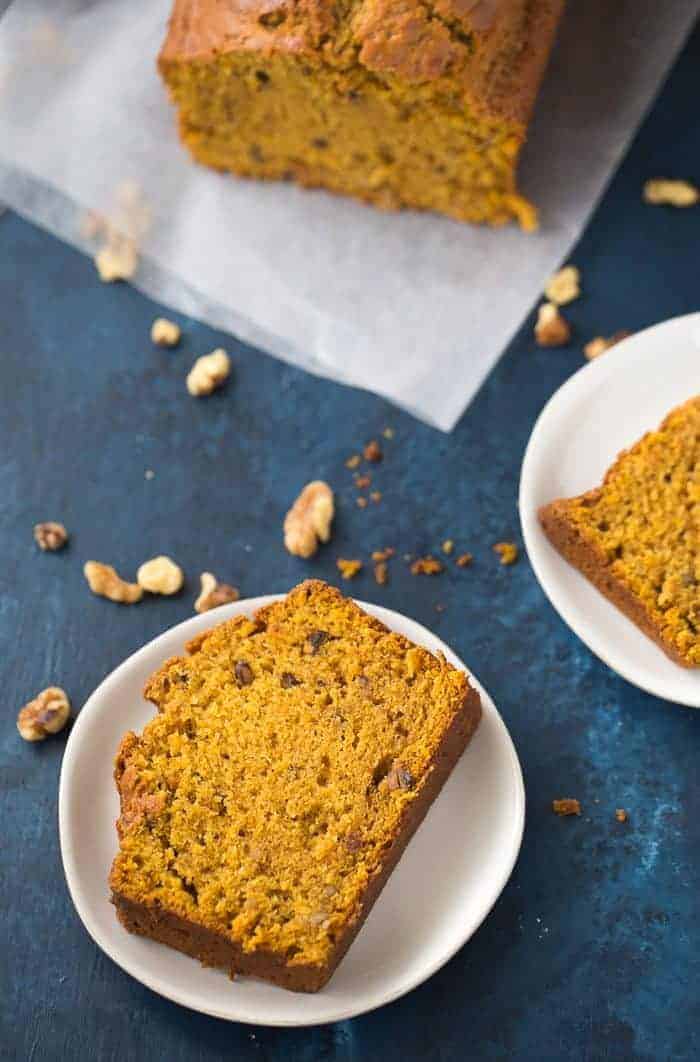 The base batter is simple and a one-bowl recipe. Your dry ingredients are spiced with your usual warm fall spices; cinnamon, nutmeg and a pinch of ginger. You add your wet ingredients to the dry which includes vegetable oil making this bread incredibly moist. And that's it! The recipe below makes two large loaves so be sure to share with a loved one.
If you are looking for a good pumpkin bread recipe, you must try this one. It will become a staple on your fall baking list. It's a great housewarming gift, breakfast, snack, and overall amazing fall recipe.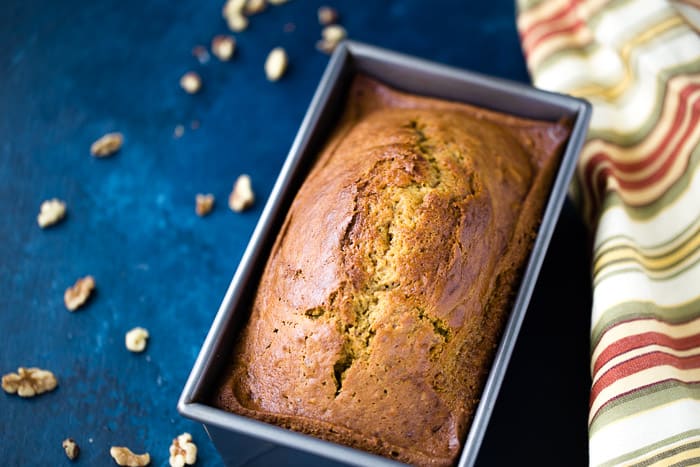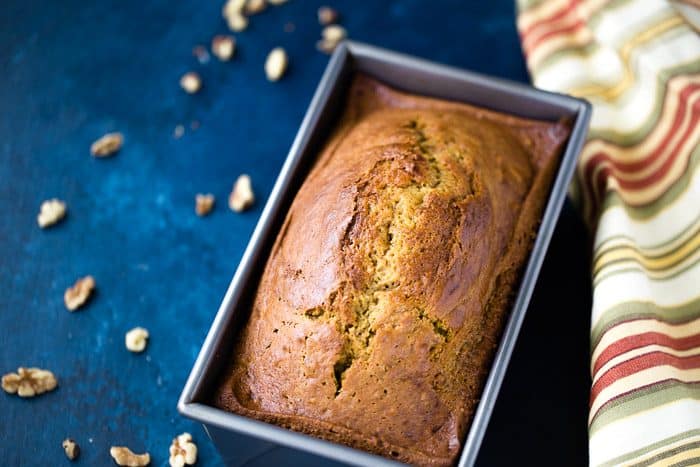 Here are more fall sweet breads for your fall baking list:
Happy Baking!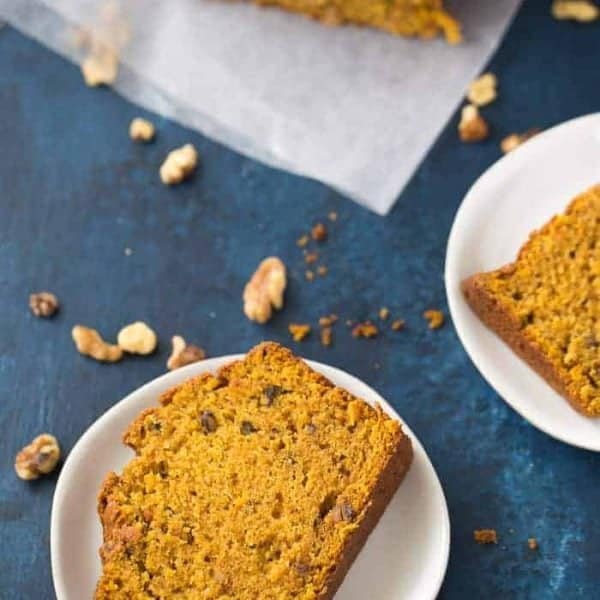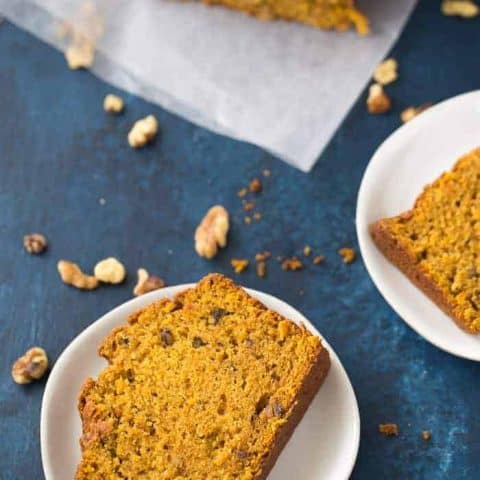 Yield: 2 loaves
Classic Pumpkin Bread Recipe
Total Time
1 hour
10 minutes
Ingredients
1 cup vegetable oil
2 2/3 cups granulated sugar
4 large eggs
One 15-ounce can pumpkin puree (not pumpkin pie filling)
2/3 cup water
3 1/3 cups all-purpose flour
1/2 teaspoon baking powder
1 teaspoon baking soda
1 1/2 teaspoons salt
1 teaspoon ground nutmeg
½ teaspoon ground cinnamon
¼ teaspoon ground ginger
1 teaspoon vanilla extract
1 cup chopped walnuts, optional
Coarse sugar for topping
Instructions
Heat oven to 350 degrees F. Grease two large loaf pans (9 x 5 -inch) with baking spray.
In a large bowl, whisk together the oil, sugar, eggs, pumpkin puree and water. Add in the flour, baking powder, baking soda, salt, spices and vanilla extract.
If using walnuts, stir those in now.
Divide the batter into the two prepared pans. Sprinkle the tops of each loaf with coarse sparkling sugar.
Bake the bread until a toothpick instead in the center comes out clean, about 60 to 80 minutes.
Remove from the oven and cool on a cooling rack. Let cool completely.
Store bread, wrapped tightly in plastic wrap.
Notes
Adapted from King Arthur Flour
Recommended Products
As an Amazon Associate and member of other affiliate programs, I earn from qualifying purchases.