Spring Decorated Cookies with Buttercream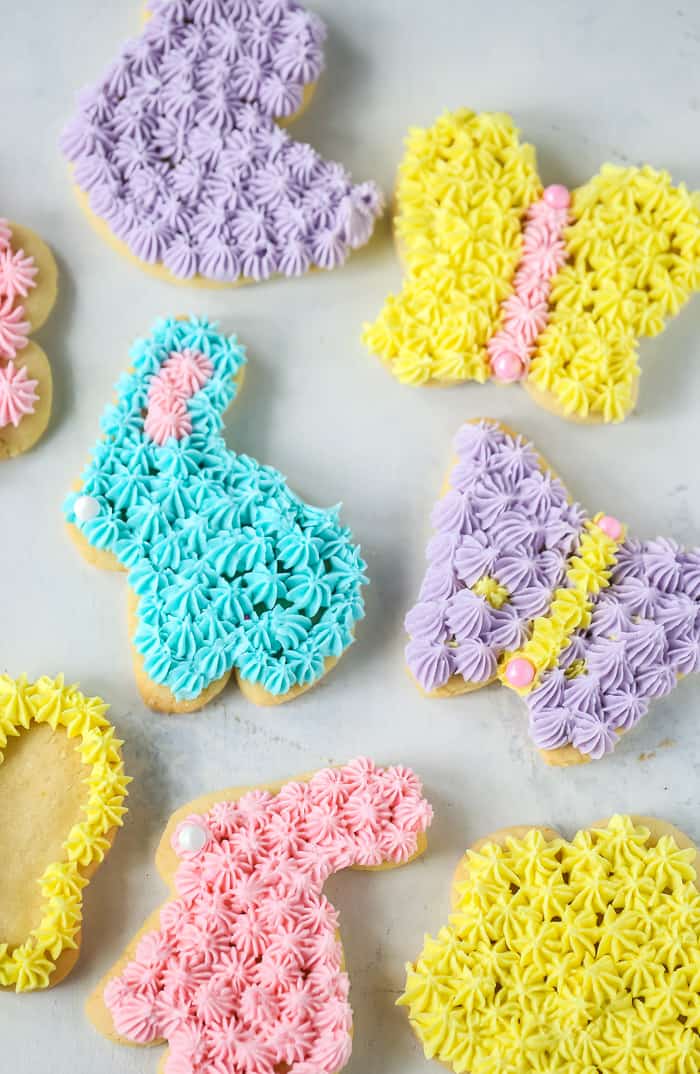 Hi friends! I'm bringing you some colorful spring decorated cookies in the hopes that it will brighten up your day in a little way.
But first, how are you doing? How are you holding up?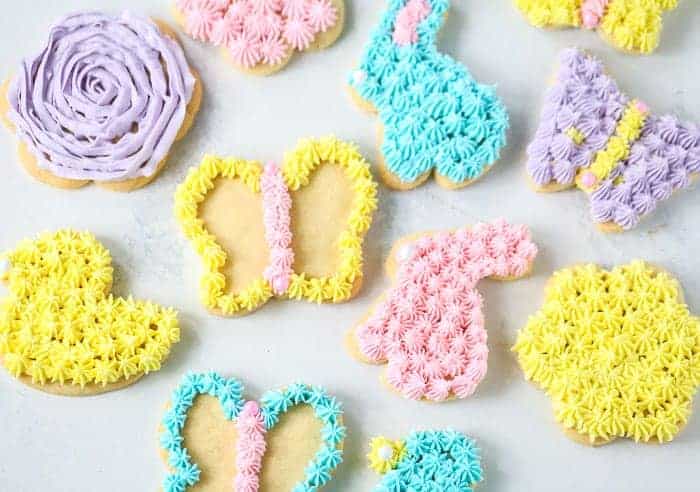 I am sending you virtual hugs and prayers during these difficult times. I know none of us are having an easy time with this global quarantine but we must continue to hope for better times and face each day one day at a time.
My only advice is that we accept that it is okay to feel any and all of the feelings you have. There are no right or wrong feelings in a global pandemic. And we must give grace to others as they grieve and react to the situation. We are all in this together but yet have different ways of handling stress.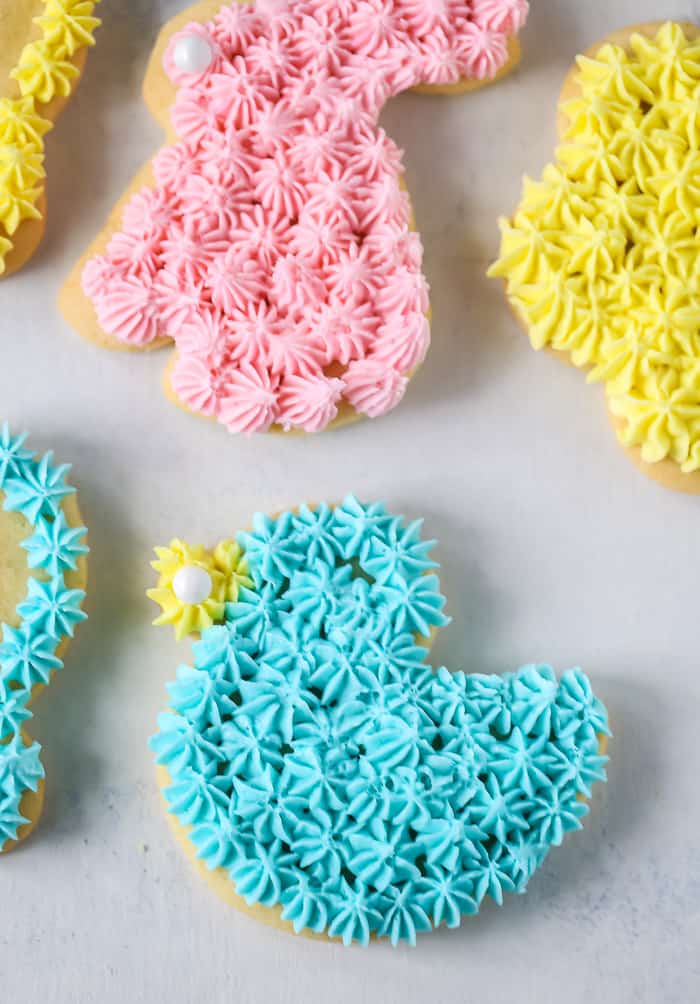 As some of us find ourselves home a lot with our families, I hope that if we are healthy and safe we will use this time to reconnect with those we love. I hope we can use the time to give back to others who are not as fortunate and pay forward anything we can spare.
These spring decorated cookies were made for my toddler who wanted to bake cookies. He is having big feelings about not being able to go anywhere and I can only imagine how hard it is for a 4-year-old to understand all of this. I indulged him with the cookies and it was a good afternoon activity to help him get along.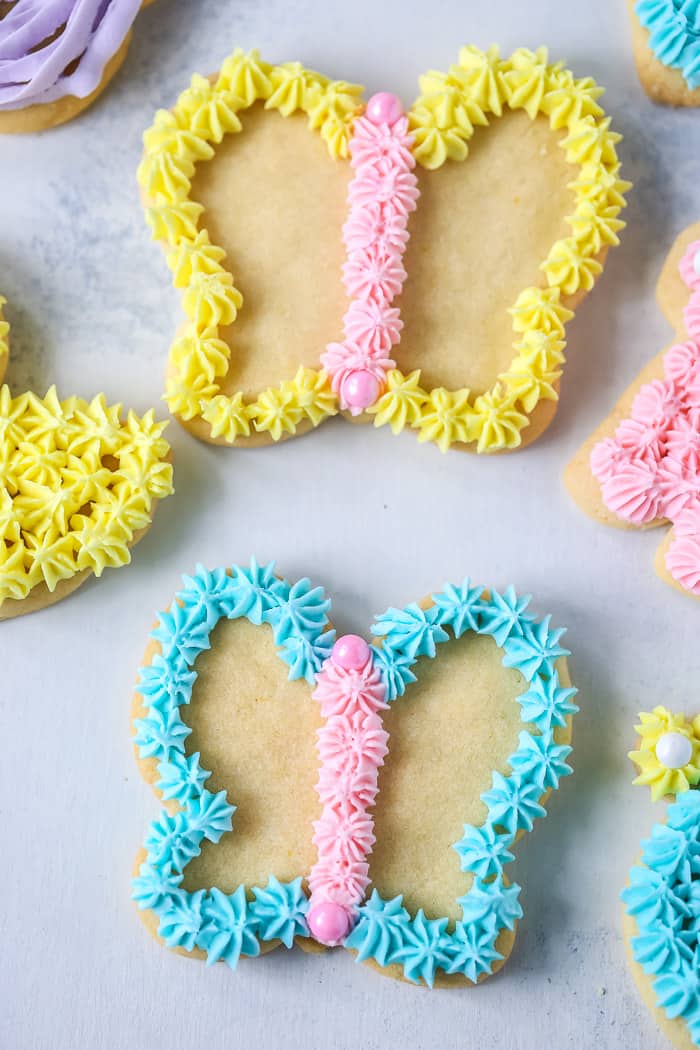 The cookies are based on my husband's grandma's best sugar cookie recipe I shared a few weeks ago. The best sugar cookies I've had and they are so versatile. I made them into cutouts by just chilling the dough for at least two hours and then rolling them out. I also added in lemon zest to the cookies for a spring flavor.
He helped me pick out the cutters and cut out the shapes. I did steer him towards Spring and Easter cookie cutters in his defense. As for the colors, he had a full range of my decorating colors. He luckily loves pastel colors so it worked out great for these spring-themed cookies.
If you don't celebrate Easter, use your favorite cookie cutters and colors of your choice. These are just ideas.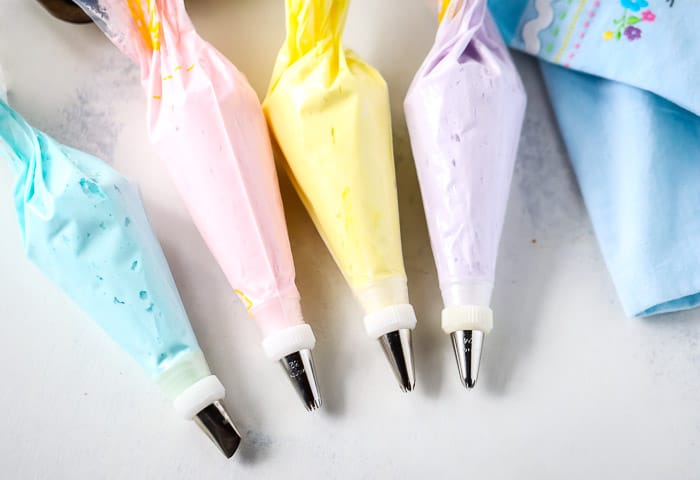 To decorate the cookies, I used buttercream. I am not very talented when it comes to decorating cookies with royal icing. I tried it a few years ago and I do it annually for fun at Christmas, but I am not good at it. Buttercream, on the other hand, I love using and enjoy it. Remember these flower cupcakes? They were all buttercream and also a great spring project.
There are lots of opportunities to have fun with this and make it your own. I used the below Wilton tips for my designs. I kept it simple but you don't have to 🙂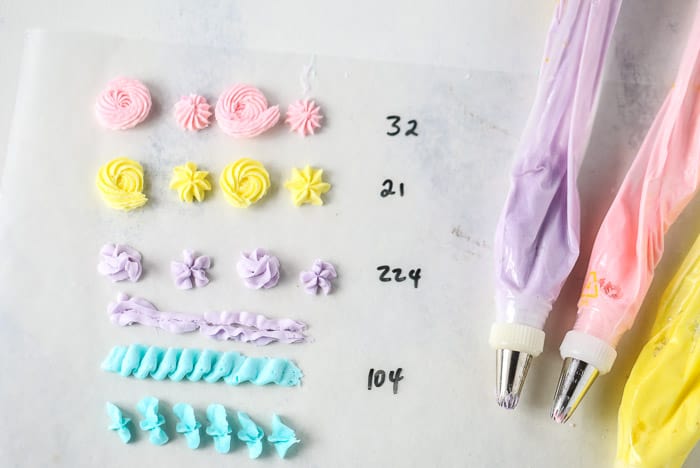 Feel free to get creative with your tips and colors. It's a great therapeutic activity if you need something to take your mind off current situations (which I urge you to do every now and then for your mental health). And it is a perfect activity for kids.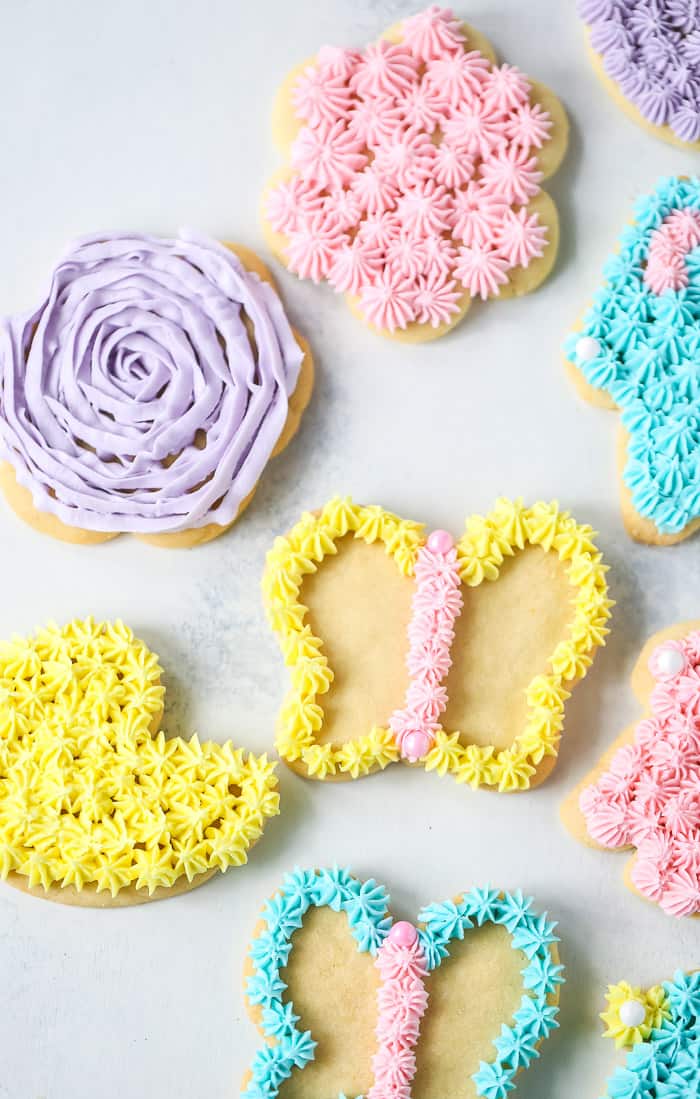 I hope you all stay safe and well out there. Until next time, enjoy these cookies and I hope they brighten your day a little.
xoxo,
Z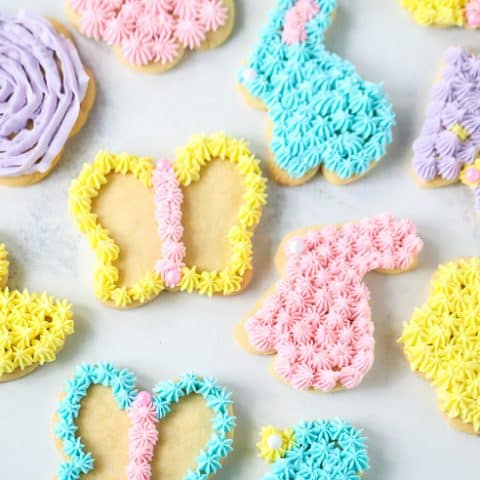 Yield: 5 dozen cookies
Spring Decorated Cookies
These soft and chewy sugar cookies are my husband's grandma's best sugar cookie recipe. Easy to decorate with fluffy buttercream.
Prep Time 30 minutes
Cook Time 10 minutes
Additional Time 2 hours
Total Time 2 hours 40 minutes
Ingredients
For Cookies:
1 cup (2 sticks) unsalted butter
2 cups granulated sugar
2 large eggs, at room temperature
1 cup extra virgin olive oil or vegetable oil
1 teaspoon pure vanilla extract
5 cups all-purpose flour
2 teaspoons baking soda
2 teaspoons cream of tartar
a pinch of salt
For Buttercream
1 cup (2 sticks) unsalted butter, at room temperature
4 cups powdered sugar
1 teaspoon pure vanilla extract
3 tablespoons heavy cream
food coloring of your choice
Instructions
In a large bowl or the bowl of a stand mixer, cream together the butter and sugar on medium-high speed until light and fluffy, about 3-4 minutes.
Beat in the eggs, one at a time until combine. Add in the oil and vanilla extract. Beat on low until combined.
In another large bowl, sift together the flour, baking soda, cream of tartar and salt. After sifting, use a whisk to combine the dry ingredients together.
With the mixer on low, gradually add in the dry ingredients. Mix until combined on low. Transition to a rubber spatula if your mixer can't handle mixing. Mix until all flour is incorporated.
Divide dough into two equal parts. Wrap each in plastic wrap and chill dough for at least two hours.
Preheat oven to 350 degrees F. Line two cookie sheets with parchment paper.
When ready, let the dough sit at room temperature before rolling.
Roll dough out on a lightly floured surface. Using your cookie cutters, cut out dough and place on prepared cookie sheet.
Re-roll scraps once to make more cut-outs.
Repeat for the other half of cookie dough.
Bake cookies for 8-10 minutes until lightly golden on edges.
Transfer cookies to a cooling rack.
For the frosting: beat the butter on medium speed in a medium bowl until light and fluffy, about 3 minutes.
Add in the rest of the ingredients and mix on low until combined. Increase speed to medium and whip until fluffy for 3-4 minutes.
Divide buttercream into equal parts and color with your desired colors.
To decorate: fill your decorating bags and desired tips with your buttercream.
Pipe out any design on your cookies.
Recommended Products
As an Amazon Associate and member of other affiliate programs, I earn from qualifying purchases.